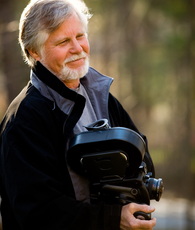 NovaCam is a small business specializing in re-engineering and reconditioning pre-owned motion picture equipment.

My name is Larry Gebhardt. I have been a cinematographer for many years, having shot my first 16mm film back in 1980. For the kind of stuff I have specialized in, renting gear was not always an option, and I acquired a lot of equipment along the way ... cameras, lenses, support equipment of all kinds, etc.

With a degree in engineering, I have rarely been totally satisfied with off-the-shelf equipment and have often thought that the people designing this stuff don't actually use it. As a result, I have always looked for ways to improve it. So buying, modifying, adding features, refurbishing and later selling this gear as I moved on to other stuff, has been a big part of my career.


In 2000, with suggestions from others, I decided to put a name on this expertise and team of collaborators with whom I have worked, and NovaCam was born.



About NovaCam:
Over the years I have worked with a diverse team of mechanical engineering whiz-kids, high precision CNC machine shops, metal plating shops, optical specialists and others. NovaCam is the product of those continuing associations.

We typically buy equipment from many sources, in all conditions, and refurbish it to functionally new condition ... and often add a bit of our own engineering based on our own field experience. We also have a few products of our own which we will be introducing along the way.
---
Our Shop: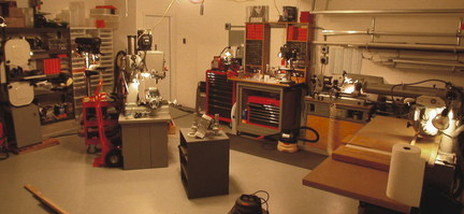 This is our shop...small but capable. Here we have several lathes, a milling machine and a large assortment of specialized tools. We also have an optical room complete with a Richter Bench Collimator, a lens projector and precision measuring equipment.




And when the job requires expertise beyond ours, such as making high tolerance parts that are no longer available, we turn to specialists such as our partner high precision CNC machine shop, a Haas equipped shop capable of maintaining tolerances down to a few ten thousands of a inch (.0001") ... holding dimensions closer than even lens mount work requires.





---
Our Products / Services:


OConnor Fluid Tripod Heads
We specialize in reconditioning the smaller late model OConnor fluid heads ... all versions of the 1030, the DV and the 515 heads. Please see the
OConnor
page. We service and overhaul these heads and to further add value, we have developed a modification that you won't find elsewhere...the
NovaCam HDF Conversion.
"HDF"
is short for
"High Density Fluid"
. We start with standard OConnor heads and upgrade them with specially formulated higher viscosity fluid and other tweaks to give the operator the feel of a larger head...for smoother, more solid moves with a head that is more suited for shooting with smaller, lighter digital cameras ... cameras such as lightly configured RED cameras, the Canon C cameras (C100, 300, etc.), Sony FS5, FS7, F5, 55, etc.
For shooting docs, run'n'gun stuff, etc ... carry less weight around but still have the smooth moves of a larger head. Please see the
NovaCam HDF
page for details.
Canon Telephoto FD Lens Conversions
Several years ago, we developed a PL mount conversion for the Canon 150-600mm FD mount lens, similar to the ones that Century Optics offered. It worked very well and several people suggested that we convert more of them. Since the 150-600mm lens is seeing a re-birth of interest from the guys who shoot wildlife and action subjects with the new digital cinema cameras, we thought we would take a another look.
After this conversion is set up for production, we will be designing conversions for the other Canon FD mount telephoto lenses. These are all great lenses and converting them is an example of what we like to do ... modernizing older, still very viable equipment for the new digital cinematography cameras.
More to Come
We have a few more things up our sleeve and will be developing several other products that we feel may have a market. We will offer these types of products / services and other items, for sale here and elsewhere. In all cases, we will include a warranty for both our work and for the correct functioning of the item itself, for 1 Year after the sale. This is all inclusive except for, of course, damage or abuse after the sale. We appreciate the interest and good vibes we continue to get from our customers and we hope to satisfy all who trust us with their gear and/or hard earned currency.