OConnor Fluid Tripod Heads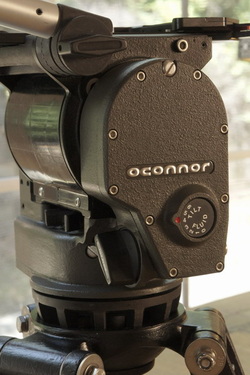 One of our main areas of interest is refurbishing and often modifying the smaller OConnor Fluid Tripod Heads such as the 1030 (all versions), DV/DVS and 515/515S heads.
​
In addition to refurbishing/repairing these heads, we have developed an upgrade that we call the
NovaCam HDF
conversion ...which stands for
"High Density Fluid".
For information on this conversion, please see the
NovaCam
page.
​
OConnor is famous for their legendary "feel"...an absolutely frictionless fluid feel that allows you to perform the
subtlest
of moves with no hesitation or "stickiness" at the start of the move, or when changing direction. Add to that OConnor's patented sinusoidal counterbalance system for true, accurate balance at any point in the tilt range, and you have the industry standard Fluid Head.
---
OConnor Fluid Heads - General Information


The Various (smaller) OConnor Heads...Past and Present
5-15, 515 and 515S...The smallest of the current design. 2" dia. drag plates in the pan and tilt fluid modules.
DV and DVS..............Larger than the 515, but smaller than the 1030. 2.25" diameter drag plates.
10-30 (1030A)...........The Original 1030, grey paint, more "rounded" top casting. Has "1030 Ultimate" decal both sides
1030 B and S............The newer (current) exterior design, grey paint, heavier max drag. 2.5" dia. drag plates.
1030 HD and HDs.... Black paint, same max drag compared to the B and S versions. 2.5" drag plates
1030 D and Ds......... The newest version, black paint, new counterbalance setting knob. Same max drag as HD/HDS



OConnor Fluid Head Maximum Weight Capacities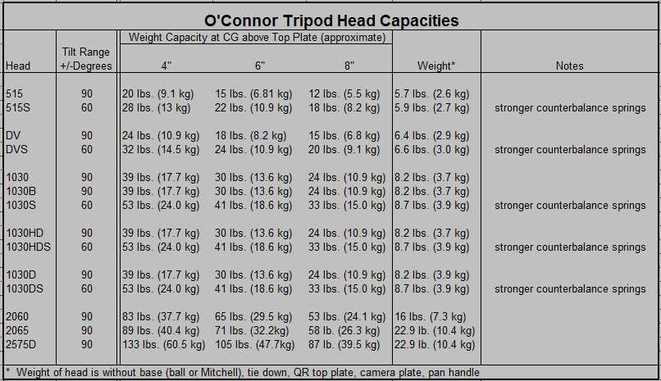 Minimum Weight Capacities:
This is important as the counterbalance springs will overpower a camera that does not weigh enough to balance the head,
and the operator will be constantly fighting the tilt balance. The result...at the end of a move, the camera will want to spring back, often ruining the move.
My experience with OConnor heads is that, all things considered (including the time it takes just to set the counterbalance), they best work within a range of approximately 3 to 1... the lighter end being about 1/3 the weight of the heavier end. For Example, the original 1030 best works (my opinion) from about 10 lbs to 30 lbs (Camera C.G. 6" above head top plate) . Certainly camera weights less than the lower range will work , and in fact, OConnor specs their heads to go down to zero counterbalance. But practically speaking from my experience, the effort to set the counterbalance to much lower camera weights takes quite a bit of time, when time is often short, and very strong fingers. This is true for the 1030 heads and to a lesser extent, the smaller heads. I personally use an HDF converted 515 in my work and it counterbalances a GH4 with small lenses (and no other stuff) quite nicely. I also have an HDF converted DV head that I use it with a Sony FS7 that I recently purchased.
Therefore in my experience, to approximate the minimum practical operating weight for any of the OConnor heads, I suggest that you can divide the maximum capacities in the above table by 3.
And, I feel that it is important to choose a head by considering both the minimum weight to be accommodated, as well as the maximum. As we are now using much lighter cameras than the film era monsters (ever shoot with a fully loaded Arri 535?), the smaller 515 and DV heads are seeing a resurgence of popularity.
Features added along the way (Smaller Heads):
Illuminated level added to the 1030 HD/HDS versions and later ... also included in later DV/DVS heads.
Slightly different locking levers from one version to another (cosmetic mostly rather than functional)
Original 10-30 (1030A) pan lock is knob to twist instead of lever.
Original 10-30 (1030A) has a lever to set tilt drag versus a knob to twist in all later versions.
The 5-15, 515 and 515S also uses a lever to set tilt drag.
All versions with the "S" (called 'Studio version') in the number indicates stronger springs in the counterbalance. This allows heavier cameras to be balanced, with the downside that the tilt is reduced from +/- 90 degrees to +/- 60 degrees.
The OConnor 5-15, 515 and 515S Heads
To compete with some of the smaller offerings from Sachtler, Miller, and others, OConnor developed the 5-15 head. It is a beautiful piece of engineering...a 1030B with all of its functions, feel and parts, just smaller. The first iteration, the 5-15 head, had slightly different end caps that were more sculpted than those on the later 515 heads. This is entirely cosmetic as the heads are identical in every other way. The interior mechanics are exactly the same. I personally think the earlier version looks cooler, but that is just me and certainly doesn't make any difference in the way they work.
The OConnor DV and DVS Heads
Then later, OConnor introduced the DV and DVS heads...heads with capacities that are between that of the 515 and 1030 heads. These heads are slightly larger and will handle slightly larger loads than the 515 heads. They have a knob to twist to set tilt drag instead of the lever on the 515 versions. For the cameras that I now shoot with (Panasonic GH4, Sony FS7) these are my favorite heads, bar none (including all other high quality heads from other manufacturers). With the HDF conversion, they have the drag possibilities and other advantages of the 1030B and later heads, at about 75% of the weight.
Unfortunately, the 515 and the DV version heads have since been discontinued, and
OConnor no longer stocks parts for them. To be able to continue to offer service for them, we have had parts made in a CNC machine shop when necessary. Some parts, however, are beyond economic sense to try to manufacture ourselves and in those cases, we can often find used parts from heads that have been put out to pasture.
Why are OConnor Fluid Heads so Popular?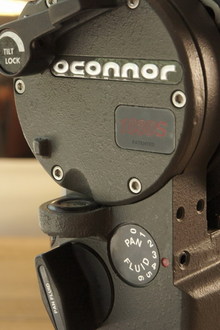 OConnor Fluid Tripod Heads are considered to be the industry standard, at least in the US for film and digital cinema . The smooth, solid feel of the movement is legendary. With stepless, infinitely variable settings for both fluid drag and counterbalance, no other manufacturer has quite duplicated the absolutely smooth, friction free feel and perfect balance of OConnor heads.
Briefly, my theory for the reason for the ultra-smooth feel is due to the difference in OConnor's fluid drag mechanism. Other high quality manufacturers...Sachtler, Miller, etc, use a series of fluid modules in each axis...up to 4 or 5 for the heads that have 7 or more discreet fluid drag settings. The various settings are activated (to simplify it) by pins that drop into slots to sequentially engage the drag modules. Each one of the modules has one or two O-rings to seal the fluid into the module and there is always a little friction in each o-ring...something you just can't eliminate altogether. Thus, you can have many o-rings per axis, with each adding a slight bit of friction...friction that has to be overcome when you start a move.
OConnor has one module per axis, with the ability to vary the drag
within
the module via a very ingenious mechanical design...eliminating multiple O-rings and therefore less friction.
If you remember from high school science class…the coefficient of static friction is more than that of moving friction…thus the "stiction" when you start a move. That starting hesitation is what OConnor doesn't have…at all.
Besides OConnor's step-less fluid drag settings, the other big thing in my view is the ability to infinitely vary the counterbalance also via a step-less design. Often when using Sachtlers (and other heads) that I have owned, the balance would be between two of the discrete settings. OConnor heads have another ingenious design in that the counterbalance is infinitely variable from the lightest up to the maximum…with no steps.
They call it "Sinusoidal" in that the balancing force is not linear, as with other heads, but increases in a logarithmic fashion with the angle of tilt. Think about it ... the load moves in a circle as you tilt, rather than a straight line. Therefore the counterbalance force needs to vary with the tilt angle in a non-linear fashion. Another way of saying it…60 degrees of tilt requires more counterbalance than twice that needed at 30 degrees. OConnor is the only head in my experience that does this.
The downside of all of this infinite
variability
is the fact that it takes more time to make drag and counterbalance adjustments on OConnor heads. Sachtler, Miller, Cartoni, etc. are quicker to set, and as an operator, that can be good when time is critical. You just have to weigh the differences and decide what is important to you. All things considered, I feel the quality of one's camera moves override the little extra time it takes to change the drag setting, etc. But...if you are often changing from primes to big zooms lenses and back...then often dialing in new counterbalances can become an issue. As they say...YMMV.
The last advantage that I feel OConnor has over other heads is the reliability of their mechanical design. The fluid drag module is elegantly simple ... no pins that drop into slots to activate the various modules in the heads with discrete drag settings ... pins that over time will wear and not fit quite as snugly and then there is a slight "backlash" or freeplay in your move. This happened with my first Sachtler (Panorama 7 x 7). Each OConnor axis is directly and rigidly connected to the plates in the drag module…no linkage of any kind…nothing to wear out and become loose. I have a 25 year old 1030 head that I bought new, and it still has the solid feel that it had when I bought it. Very few things in our business last that long and are worth as much used as what they sold for new. I paid $3500.00 for that 1030 back in 1992 and it is still worth (almost) that today...it's in great shape. The same can probably be said for any of the high quality heads like Sachtler, Miller, etc...even though they are expensive versus Manfrotto, etc, they are all long term investments.
Please note that these are strictly my thoughts, based on 35 years using OConnor heads, along with many others.
---